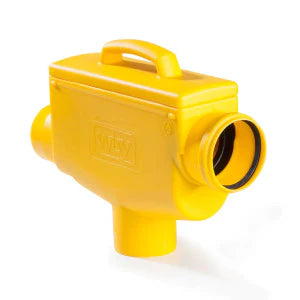 Wisy LineAr 100 Rainwater Filter
Original price
$1,160.00
-
Original price
$1,160.00
Description

Whether for new builds or retrofits: The space-saving LineAr 100 rainwater filter is easy to plan and can be installed without any extra excavation work. There are just five centimeters height difference between the rainwater inlet and the dirty water outlet. Thanks to this minimal height difference, the LineAr 100 rainwater filter is extremely easy to integrate into existing pipework. It can even be placed directly inside a rainwater storage tank without changing the gradient of existing piping.
Wisy's LineAr 100 Rainwater Filter has a vertical filter mesh. Leaves, moss and other suspended particles are simply flushed past the filter into the drain outlet. This is the crucial advantage of this design over filter surfaces that are almost horizontal and become clogged with dirt very quickly. These are commonly found in other products. The pipe diameter is uniform throughout the LineAr 100 Rainwater Filter. Even a tennis ball washed off the roof by rain can pass unhindered through the filter housing.
The harvested rainwater is not only clean, but naturally soft as well. It is of an ideal quality for flushing toilets, washing or irrigating the garden.
Read More

For roof areas up to 200 m² in moderate climate (2,150 ft²).
Only 5 cm (2") height difference between inlet and outlet.
For installation in rainwater storage tanks.
Easy to retrofit.
Low-maintenance, vertical filter mesh.
Maximum roof area, temperate climate: 200 m² (2,150 ft²)
Height difference between rainwater inlet and soakaway or storm drain outlet: 5 cm (2 in.)
Filter mesh size: 0,44 mm
Water yield at 1.4 l/sec: > 90 %
Maintenance intervals: 2 - 3 times / year
Diameter of all connecting pipes: DN 100 (110 mm)
Guarantee: 5 years
Housing material: Polyethylene or stainless steel