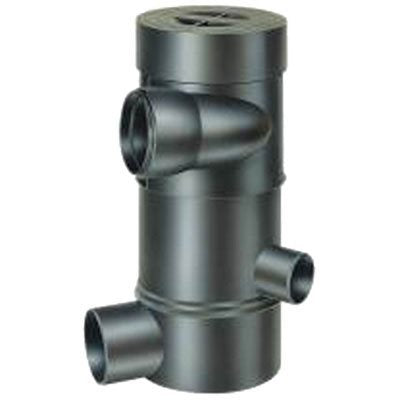 Wisy 150 Vortex Filter
Original price
$1,575.00
-
Original price
$1,575.00
Availability:
in stock, ready to be shipped
Description

The WISY WFF 150 Vortex Filter is used where multiple downspouts are connected together by a single conveyance pipe that gravity feeds the vortex filter.
This filter harvests up to 95% of the rooftop rainwater runoff from a roof area up to 5,500 square feet. Particulate larger than 280 microns is separated and diverted from the rainwater through the vortex action to protect the harvested water quality prior to entering the storage tank.
The filter is designed to provide highly oxygenated water to the storage tank because of its diamond cut vertical design.

The unique construction allows the collection of rainwater and at the same time fine filtration and automatic dirt separation.
For the installation into horizontal rainwater-pipes below ground or inside buildings.
Stable construction, can withstand vehicle traffic.
High water-collection efficiency.
Easy access to inspection opening.
Filter insert is dishwasher safe.
Low maintenance, filter is nearly self cleaning.
Read More

Housing: Polypropylene
Lid: Polypropylene
Filter Insert: Stainless Steel 280 micron pore size
Handle: Stainless Steel 12" standard
Extension: Polypropylene (for below ground installation only, sold separately)
Mounting Bracket: Stainless Steel (for above ground installation only, sold separately)
Inlet: 6" Sewer & Drain Pipe
Clean Water Outlet: 4" SCH40 with Ferncoat/Swift coupling
Drain Outlet: 6" SCH40 Housing with Ferncoat/Swift coupling
Height: 29"
Diameter: 12.375" (not including inlet, outlet or drain)