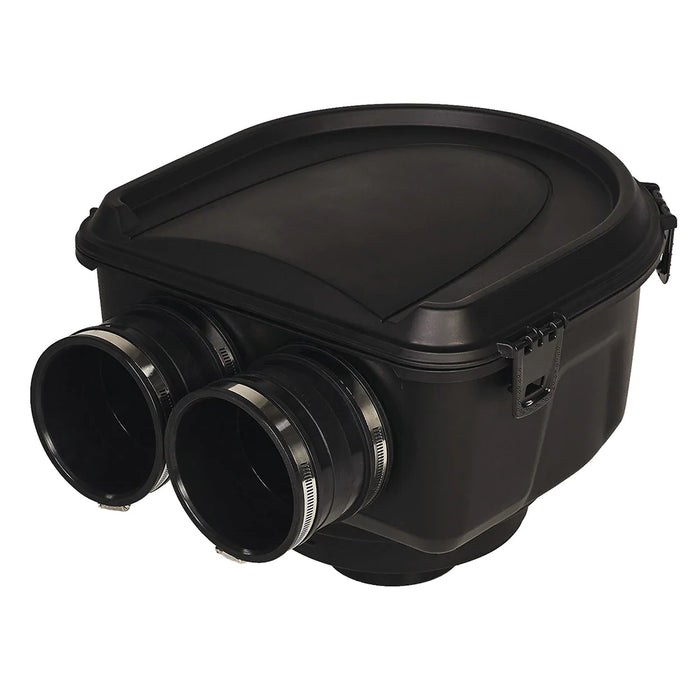 Rain Harvesting Maelstrom Filter
Save

26

%
Save

26

%
Original price
$679.98
-
Original price
$679.98
Description

The revolutionary Maelstrom filter sets a new standard in pre-tank rainwater filtering. Filtering multiple pipes at a single point, the Maelstroms unique U-shaped filter keeps leaves and debris down to 180 microns out of your rainwater tank. They also significantly increase your water catchment efficiency, even at high flow rates.
Maelstrom Filters secure the system with the triple layer filtration that prevent insects and other animals from entering and breeding or living in your downpipes. They also minimize splashing to increase the volume of rainwater you harvest.
Maelstrom Filters help you plan for volume with maximum rainwater capture potential. The ability to capture more water at higher flow rates means you can more easily predict your capture and water usage.

Get cleaner water in your tank

Maelstrom On-Tanks ultra-fine secondary filter removes particles down to 180 microns - 5 times finer than standard rain heads and pre-tank filters. This gives you cleaner, better quality water and lowers the volume of sediment putting pressure on your tank pumps and post-tank filters.

Get more water, faster

Maelstrom On-Tank eliminates the problem of water splashing off your tank inlet screen, especially at high flow rates. Its phenomenal water catchment efficiency (96% at 3,600 litres/hour in wet systems) gives you more water, faster, so you can take full advantage of every raindrop.

Get water effortlessly

Maelstrom On-Tanks initial 2mm filter diverts leaves and debris which are then flushed out during rainfall events. Because the revolutionary design is low-maintenance with no mechanical parts, it does this with minimal effort from you.
Read More

Filter debris down to 180 microns with unique, U-shaped twin filter system
Significantly increase your water catchment efficiency, even at high flow rates (96% at 36,000litres/9,510 gallons per hour in wet systems)
Filter multiple lines (pipes) at a single point
Keep leaves and debris out of your tank
Automatically flushes out debris with self-cleaning design
Maelstroms overflow can act as a backup to your tanks overflow in the event it should become blocked or unable to cope with high flow rates
Prevent mosquitoes, insects and other vermin entering your tank
Reduce load on post-tank pumps by lowering sediments
Improve stored rainwater quality
Reduce light and algae growth in your tank
Easily installation
Easily maintenance