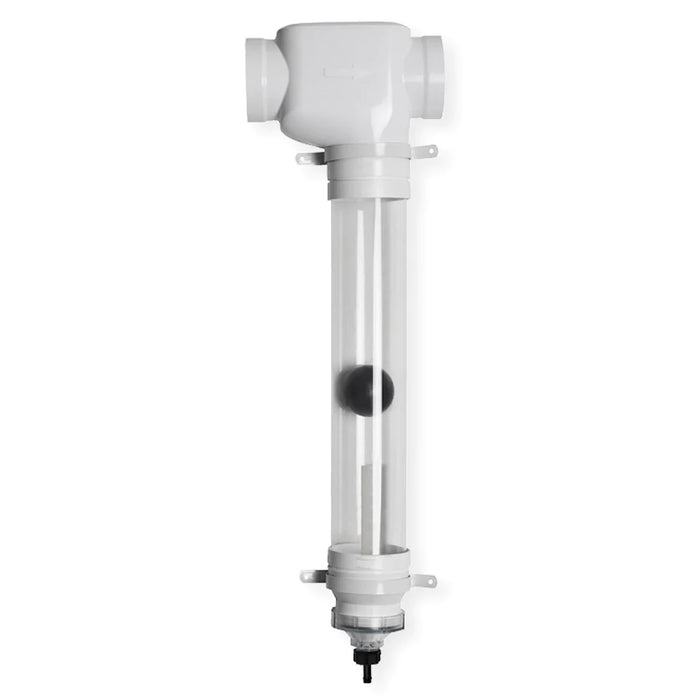 Rain Harvesting First Flush Plus Water Diverter
Original price
$111.10
-
Original price
$111.10
Description

Protect your rainwater quality by diverting the most contaminated water that washes off your roof with the first few millimetres of rainfall using the Rain Harvesting First Flush Plus.

Diverts water containing particles of organic and inorganic matter into collection chambers installed on each downpipe.
Patented First Flush Plus tee prevents dirty water from skipping over the traditional T-junction gap during heavy rainfall.
Customisable 4" Diverter Chamber pipe length.
Automatic reset valve drains after rainfall events.
Comes in kit form.
Transparent, Rapid Release Exit Funnel.
Read More

Install with ease

Supplied in kit form, the first flush diverter can be installed on your downpipes with a simple T junction. Simply add and install the length of pipe required to meet your diversion needs. This will be based on the volume of dirty, contaminated water you wish to divert.

Improve your water quality

Help prevent hazardous organic and inorganic particles from contaminating your rainwater by diverting and discarding the most particle-laden water from your roof. This first flush diverter captures the first flush of rainfall so you get better quality water in your tanks.

Use your diverted water

The water you divert is automatically released through the slow release valve. You can empty this water into a standard drip irrigation system for use around your garden or you can direct it into stormwater drainage. The choice is yours.

Calculate your diversion needs:

Generally speaking, the more water you divert, the better the quality of the rainwater that ends up in your tank. However, diverting more rainwater than necessary can lead to volume shortages, so its important to calculate your diversion needs, and divert water accordingly.
The following formulas offer general guidelines for calculating how much water you should divert:

Areas with low pollution (open fields, no trees, no bird droppings or animal matter, clean environment) = divert 0.5 litres of water per square metre of roof.
Areas with higher pollution (leaves and debris, bird droppings, animal matter/carcasses, pollution) = divert at 2 litres of water per square metre of roof.

4" Downspout diverter: Use 4" Schedule 40 PVC (not sewer and drain pipe) Storage capacity: Each 3-foot length of 4" PVC holds approximately 2 gallons of water. (0.661312 gal/ft)

First Flush diverters help you plan for volume by allowing you to choose your catchment volume with a custom catchment size and/ or an advanced release valve.
First Flush Diverters help divert the first flush through their design. They are installed using a T junction or high-flow inlet to which the diversion chamber is fitted. As the chamber fills with the initial dirty water from your roof, a ball rises until it seals the inlet, allowing the rest of your rainwater, which is much cleaner, to flow directly to your tank.