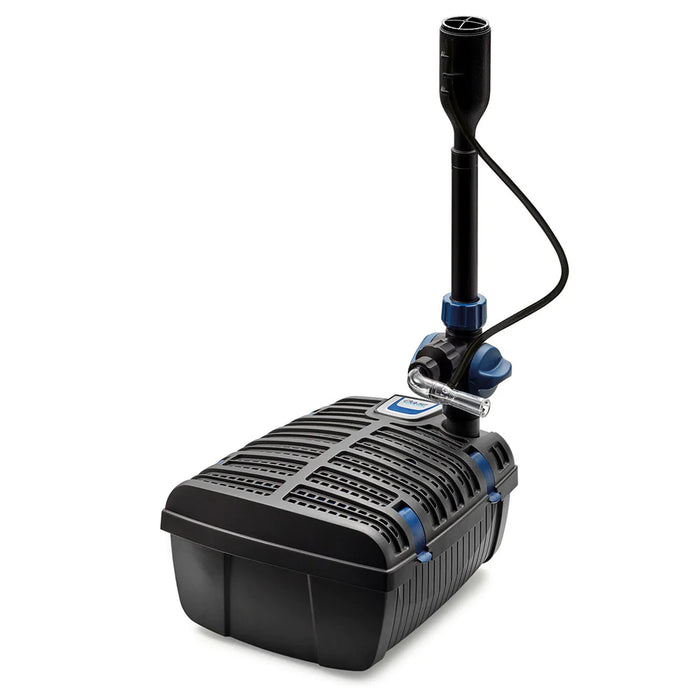 Oase Filtral UVC 400
Original price
$271.65
-
Original price
$271.65
Description

Versitile, economical, all-in-one unit integrate pump, filtration, circulation aeration, and decorative elements.

The Filtral is a compact, all-in-one in-pond filter unit with a UV Clarifier and built-in filtration with 4 types of filter media that provide mechanical and biological cleaning for ponds up to 400 gallons.
The Filtral 400 is powered by a 195 GPH pump and includes a 5W EPA-registered UV Clarifier, two filter foams, as well as bio-media elements and filter pebbles to ensure extra cleaning power.
Without a nozzle, the Filtral can run a small waterfall or stream via the diverter valve.
Three interchangeable nozzles included to create attractive water displays.
Telescoping nozzle tube included for adaptation to the specific water depth.
Safely confirm that the UVC is working with the visual inspection window at the top of the filter.
Grounding plate provides unparalleled protection against electrical hazards in your pond.
Adjustable flow control fine-tunes the flow rate and pumping height.
The filter pebbles in the net bag and the bio-media elements offer adequate settling surface for beneficial bacteria.
This product qualifies for the Clear Water Guarantee.

2 year included warranty.
Read More

Specs:

Dimensions:

8 x 9 x 5 in.

Operating Voltage:

110-120V / 60Hz

Power Consumption: 20W

UVC Power

: 5W

Power Cable Length

:

15 ft.

Flow Rate:

195 GPH

Head Height

:

Up To 4 ft.

Max. Pond Size (no fish)

: 400 gallons

Max. Pond Size (fish stock)

: 200 gallons