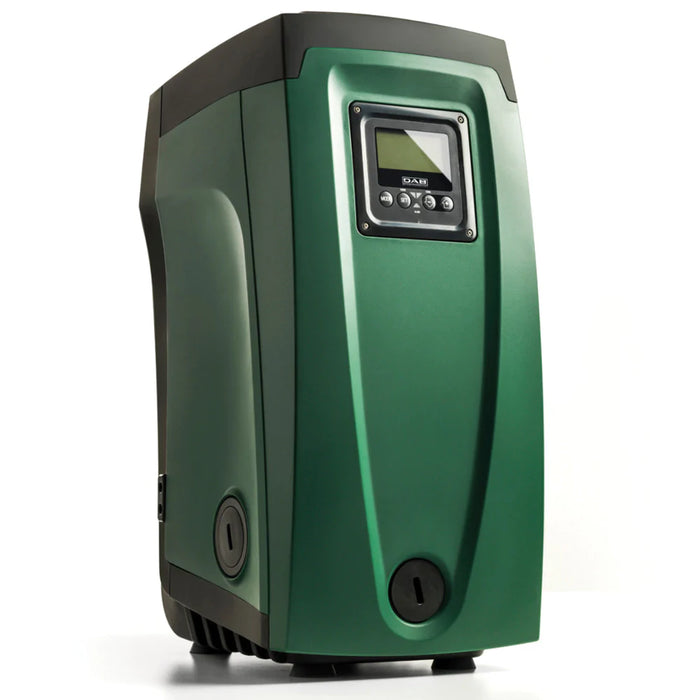 DAB Esybox - Automatic Booster System w/ Inverter
Original price
$3,955.00
-
Original price
$3,955.00
Availability:
in stock, ready to be shipped
Description

DAB Esybox - Automatic Booster System w/ Inverter

The DAB E.sybox is a patented booster system, unique in its category, with high performances, efficient, compact, easy and satisfying in the use both for the installer and the final user. When e.sybox mini is the solution for water boosting in small dwellings, e.sybox offers the same advantages in collective residential applications, such as villas or condos. Wireless technology allows to set up booster sets up to 4 pumps.

E.sybox is the first to achieve a revolutionary innovation in a pressure boosting autoclave system developing a patented, high performance, efficient, compact, easy and satisfactory to use for the installer and the end user.
Read More

Features: 

ENERGY SAVING: Guarantees the comforts and savings of constant pressure (Set Point adjustable from 1 to 5.5 bar) in the system and up to 365 dollars a year* saving on energy bills, thanks to the inverter technology.
CONSTANT PRESSURE: Thanks to inverter technology, once you have set the desired pressure, E.sybox maintains a constant pressure to all the water outlets served.
EVEN QUIETER: Thanks to the experience gained over the years, we have further optimized E.sybox making it even more quiet and comfortable.
MINIMUM FUSS: The new component architecture and the ergonomic design make E.sybox so compact, it can be installed in nearly any environment. It guarantees a dimension reduction of at least 30% compared to any other traditional pump system.
DISPLAY: LCD 70X40 mm high-resolution screen, adjustable to adapt the readability at various installations. The intuitive interface gives access to all the system information and the main settings depending on the specific application.
INTEGRATED - ALL IN 1: Once the suction and delivery pipes are connected, E.sybox doesnt require any additional components for its installation and operation.
WIRELESS: Thanks to the equipped wireless connection is possible to create groups of two to four pumps and can be connected to the internet.
MAXIMUM VERSATILITY: Horizontal, vertical or wall mounted, E.sybox can be installed virtually anywhere inside or outside the home.

OPERATING RANGE: Flow up to 120l/min; head up to 65m

PUMPED LIQUID: Clean, free from solids or abrasive substances, non viscous, non aggressive, non crystallized and not chemically neutral

LIQUID TEMPERATURE RANGE:
From 0C to + 35C for domestic use and
From 0C + 40C for other uses

MAXIMUM SUCTION DEPTH: 8 meters

MAXIMUM AMBIENT TEMPERATURE: +50C

MAXIMUM WORKING PRESSURE: 8 bar (800 kPa)

MOTOR PROTECTION: IPX4

INSULATION CLASS: F