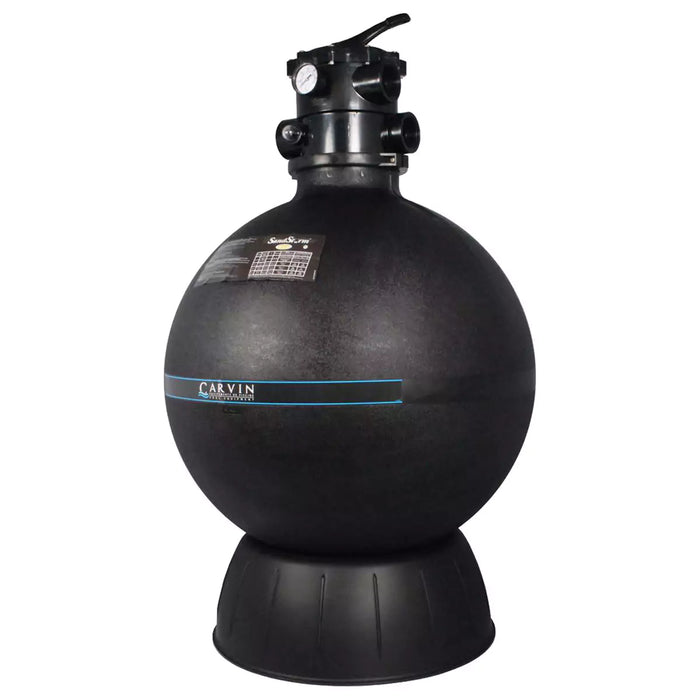 Carvin 31" Sandstorm Sand Filter w/2" Dial Valve
Original price
$1,394.89
-
Original price
$1,394.89
Description

Features a corrosion resistant and UV resistant precision molded one piece tank.
The 31" (78.7cm) Spherical tank design for superior strength longer life.
Stainless steel clamp allows for 360 degree rotation of the dial valve for easy installation.
2" plumbing for less flow restriction.
Sturdy injection molded base for secure tank support.
7-way dial valve controls Filtration backwash rinse whirlpool drain winterize and test operations.
UniFlo underdrain with unique side-slotted laterals.
TM31 and TM36 models feature exclusive snowflake lateral system which optimizes use of sand bed on larger filters. Easy service "Snap-Fit" laterals.
Heavy-duty freeze resistant hub.
Water distribution system features unique diverter and basket to direct water evenly across the entire surface of the sand without sand migration of channeling.
Read More

Jacuzzi Item Number: 94085313
Size (V): 31" (78.7 cm)
Sand qty LBS (kg): 500 (226.8)
Filter surface sq.ft (m2) 4.80 (0.45)
Total Gallons Residential 6 hrs (m3) 43200 (164)
Total Gallons Commercial 6 hrs (m3)34560 (131)