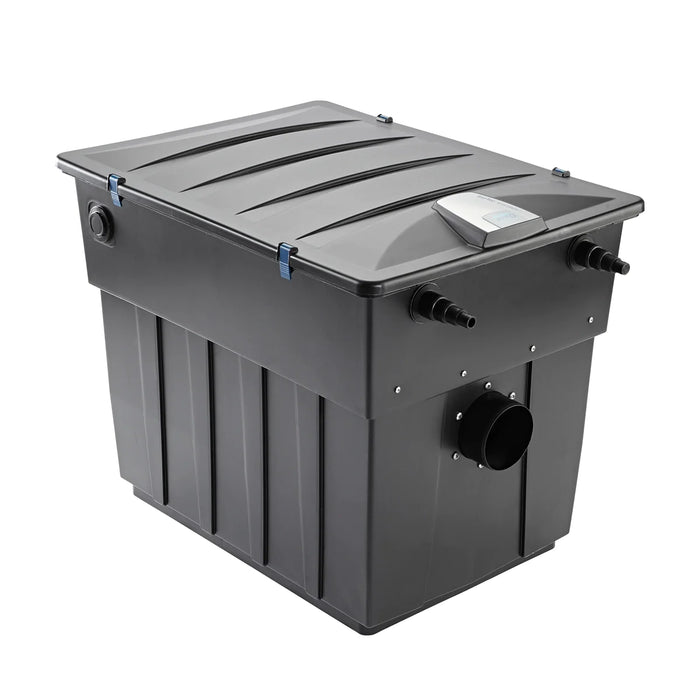 BioTec Screenmatic 2 24000
Original price
$1,899.99
-
Original price
$1,899.99
Description

This advanced, innovative filter offers automatic debris separation using the self-cleaning screen, which separates coarse debris and deposits it in the cleaning tray for easy removal. The BioTec ScreenMatic 2 now has a double-sealed motor and a reinforced screen for an extended service life. The larger sludge basket has been redesigned for greater convenience in the collection and removal of large debris - resulting in reduced contamination of pond water! The BioTec ScreenMatic 2 boasts a bottom drain for easy flushing of the filter.

Double-sealed motor and a reinforced screen for extended service life.
New foam design and optimized water level control ensure longer filter service life, improved filtration, and reduced maintenance.
Intelligent cleaning sensors w/LED indicator detect the pollutant level and automatically activate the screen.
Optimized water distributors ensure ideal water flow over a broad range of pumps- no clogging.
Rubberized separator lip separates out large debris for better filtration. Includes a brush for easy cleaning of the belt filter.
Features storm-safe fastening clips on each lid to ensure safety during heavy winds.

Limited Warranty:

3 years.
Read More

Effective Pond Size: up to 24000 gal. (without fish)
Recommended Pump Capacity: 1600 gph (min) to 3302 gph (max)
Intake Connection: 2" threaded female
Tubing Connector (intake): 1", 1 1/4", 1 1/2",2"
Outlet Connection: 2"

Sludge Drain Connection: 2"
Filter Foams: 16 (8x Red, 8x Blue)
Power Cable Length: 7' (primary), 16' (secondary)
Power Consumption: 5W
Power Requirement: 120V / 60Hz
Dimensions: (L x W x H): 31" x 23" x 25.4"
Limited Warranty: 3 years