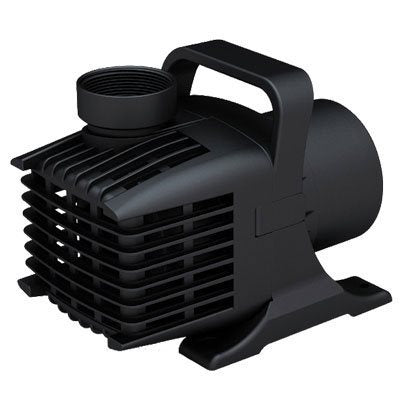 Atlantic TT6000 (6,600 GPH / 110 GPM) Tidal Wave 3 Asynchronous Pump
Save

1

%
Save

1

%
Original price
$733.33
-
Original price
$733.33
Description

Atlantic TT Pumps are perfect for waterfalls, scuppers & spouts, and filtration systems. Their ability to handle particulates like pine needles, fish waste, algae, and debris eliminates the need for constant cleaning. When you want to clean the pump or if the impeller gets impacted by a rock or other hard foreign object, the pump can easily be taken apart without tools making cleaning fast and straightforward.

All TT series pump uses an open-faced vortex-style impeller that allows for the passing of particulate and debris. Due to this design, all TT pumps move high volumes of water with little power (approximately 66 watts per 1,000 gph). The unique asynchronous motor design is paired with a uni-directional impeller and uses magnetic induction to minimize power consumption. A large removable cage provides a raised surface area to combat the pump being clogged by large leaf or plant debris.

Tip: These pumps have special impellor designs that allow water to pass into the motor for cooling. There is a small screen that prevents debris from entering the impellor housing but leaves water unrestricted. In applications where fine silt is present (sand-lined features, concrete features not fully set, etc.) this screen can become clogged. In these applications, it is recommended to check the impellor assembly from time to time and inspect the screen.
Read More

Features:

Large threaded inlet and outlet for less restriction and greater flows.
Quarter-turn volute provides access to the impeller without the use of tools.
Heavy-duty pre-filter locks in place. Large openings and increased surface area resist clogging.
Three vane hybrid impeller improves flows and passes solids easily.
Additional perforations in the handle provide greater surface area.
Energy efficient asynchronous motor is up to 30% more efficient than the competition.
All models feature a 20' power cord and a 3-year warranty
Model: TT6000
GPH: 6,600
Watts: 334
Max. Head: 23'
Suction/Discharge: 2" / 2"
Min. Pipe Size: 3"