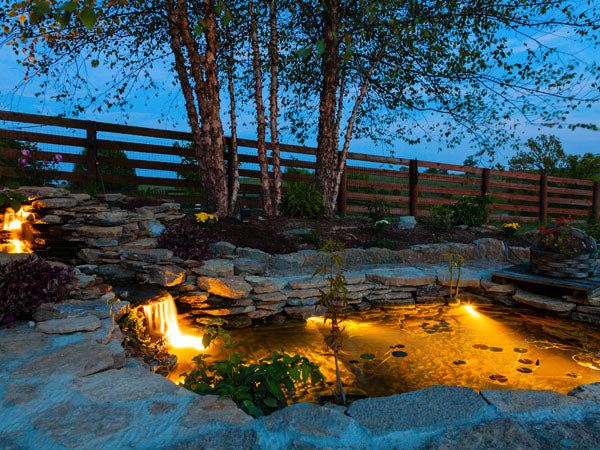 Choosing The Right Pond Lights For You!
Ponds and water features bring us all so much joy. Watching the fish and aquatic plants in your pond can add a level of peace and tranquility to your outdoor space.
Low voltage submersible pond lights are a popular solution to help make your pond sparkle at night. However, with a market full of so many landscape lighting products, making a decision on which lights are best for your pond can be intimidating. 
Your light fixture's ability to last over the years is crucial. Keep in mind, there is no such thing as a 100% bullet proof underwater fixture. All submersible fixtures are susceptible to potential leaks. The likelihood of a leak is often dependent on how the fixture is built and engineered. 
Composite and Ceramic 
Composite (hard plastic) and Ceramic fixtures tend to be more affordable and available, they also tend to be more failure prone. Temperature fluctuations and UV rays (if the fixture is only partially submerged) can damage the plastic housing causing cracking.
Aluminum
While not seen as often, underwater aluminum fixtures are available. The problem with using aluminum for underwater light is that aluminum is a ferrous metal. Simply put, ferrous metals are susceptible to corrosion.
Most aluminum fixtures undergo a special treatment process during manufacturing to protect against corrosion. However, even the smallest scrape or nick on the coated surface can leave an aluminum fixture susceptible to corrosion. Once a fixture begins to corrode, the integrity is compromised and it will continue to slowly deteriorate. 
Stainless Steel
Even though stainless steel is considered a ferrous metal, it is highly resistant to corrosion. Stainless steel is an iron alloy containing chromium which keeps iron from rusting.
So long as the fixture is well-engineered with tight-fitting gaskets to keep water from entering the housing, a stainless steel fixture is a great option for keeping your pond lit for the years to come.
Brass
Brass is a non-ferrous alloy. This means that it will not rust or corrode, period. Brass is by far the most durable option when selecting a submersible fixture.
Check out the Pond Lighting: Submersible Lighting